S2E6 - The Demo Tape
3 years ago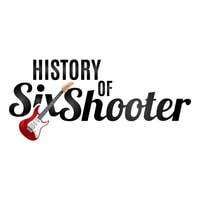 Feb 16: The Guy We've Been Looking For
Our first drummer to contact us from the add is 45 years old, has experience, a drum set, and according to his own testimony is, "the guy we've been looking for." He sounds very impressive. John is optimistic from the phone call. Kevin calls and informs Dave that there is hope.
Feb 20: Enter Lee
Well, Lee shows up with his wife. We're all excited about playing, however, Kevin is really tired as he only got two hours sleep. Dave is feeling kind of dull. Lee shows up and really steps in. He's been playing country for years. His last few bands always seem to disintegrate after 9-12 months. He's really looking for some dedicated people for the long haul. He's got really quick wrists and can really tap on the snare (this is more of a country style drumming than mammoth rolls on the toms). The songs he knew (and he knew quite a few) he played very well. His only possible downer is that he works midnight hours. When asked if there was a conflict he simply stated: "fuck work." If it was up to Lee he'd play music for a living. John says he's the easiest to play along with out of all we've been playing with lately. The band hands him a tape and asks him to learn the first five songs.
Due to the past month's letdowns, Dave feels bad that he's not more optimistic about Lee's performance. Dave is waiting "for the other shoe to drop." It's a strange kind of prejudice, and Dave agrees he needs to get ready for (what appears to be) a bright future. Dave can't help thinking, "Bob gave us a good first impression too."
Feb. 28: Lee Delivers the Goods
Well, another "moment of truth." Lee came in and disappointed no one. He actually said he would practice, and -gasp- HE DID. He nailed Third rock from the sun. Every break and stop of that song was "right on the nuts." He nailed every song he was supposed to learn, as well as many songs he was not slated to know. Consequently, the band now has to get their act together as we are close to knowing 30 songs already (with a little polishing), Many of the songs were ready to be heard. The band is on equal terms now. Lee being new, and the rest of us "fuzzy" on many of the tunes after not playing them for so long. It's time to step it up. This is cool.
March 5: Lee's 2nd Practice
Lees goes with some new songs with the band. He's not as prepared as last week (he actually did 3rd rock better the first week). However, he is still learning quickly. The band decides to wait until next week to give him the official "go" sign.
May 1: Dave Gets Promoted
At work, Dave is promoted to "Corporate Coordinator of Training." He will be developing "Graphic University." Dave is a little worried as this may require "Some travel." This would suck if it takes him away from gigs. Dave would have to quit. At this point, it's a wait and see situation.


May 21: The Final Set is Put Together
Over the past couple of weeks, the band has designed and been practicing three sets of songs. This week marks the practice of the last set (set 3). At this point, the band knows what songs still need polishing, but are one small step away from being ready to play out. They decide to record the demo tape that Dave did the preliminary work on January 20 this Saturday at 9:00 am.
May 25: Six Shooter Turns the Basement into a Studio
While tearing down his equipment at his apartment Dave accidentally damages the head phone jack of his 8-track cassette recorder. Upon arriving at Kevin's at 9:00 am, Dave puts John to work to repairing it. The repair is done around 10 and the band gets to work. The original intent is to record the basic rhythm parts. Kevin is going through some tough times with his voice.
The band uses a Tascam 488 8-track cassette deck, and a Yamaha SPX-90 effects unit. To produce their demo. Dave borrows a bunch of sound equipment from his church to add to the equipment.
The band's first song is "Fast as You." First, they must decided how they're exactly going to record the drums. Setting up microphones, taping drum heads, adjusting guitar tones, recording and rerecording lead tracks takes the band approximately 3 hours.
The second song is "Pick up Man". Luckily Dave had put down a basic guitar part for this song. The band follows along and puts down their parts in a much quicker fashion.
The third song is "Anymore". The band once again follows a guitar track already put down by Dave. Kevin (burdened with some personal problems) lays down an awesome vocal line. For the third time, Lee nails his part on the first take. The band dubs him "one take Lee."
The band goes upstairs to mix a rough draft of the tape. To their surprise, the songs are definitely steps above the usual "basement tape."
Dave will get to work on getting the business cards ready as well as upgrading the bio sheet.
On the bio sheet Dave removes all the lines about Jesse and puts this words about Lee in their place:
Lee's drum playing is summed up in one word: solid. During the making of the Six Shooter demo tape, Lee was known as "one take Lee."
Dave's not sure if he likes the new words, but will run it by the guys (a little corn ball). Dave also designs a label to placed on the demo tapes (when made). This will feature the six shooter logo.